Hello from the Parthenon One Ballroom of the Alexis Park Resort at the world debut of the Rockstar Platinum Live marketing show in Las Vegas, Nevada!
Rockstar Platinum Live Promoters On UStream – Simon Leung, Lee Collins & Robin Collins
That's right – after months of anticipation, the premiere of Rockstar Platinum Live kicked off its tour with the marketing show edition in front of fans who traveled from all around the world just to join us for this epic event.
And yes, as the promoters of Rockstar Platinum Live, Lee Collins, Robin Collins and myself definitely did not disappoint!
In fact (not to break our arms patting ourselves in the back haha), we probably pulled off one of the most spectacular Internet Marketing shows the world has ever seen…
First of all, just take a look at this AMAZING speaker and VIP line-up…
Keynote & VIP Speakers: Robert G. Allen with Mark Victor Hansen
Robert Allen & Mark Victor Hansen – Keynote & VIP Speakers At Rockstar Platinum Live
Speaker Line-Up: Dave Lakhani, Anik Singal, Tom Beal, Matt Bacak, Mike Morgan, Deborah Micek, Paul Colligan, Kevin Nations, Ross Goldberg, Alan Bechtold, Brian Koz, Erik Stafford, Scott Stratten, David Fagan and Jeff Schwerdt
Rockstar Platinum Live Expert Panel
VIP Guests: Mike Filsaime, Harris Fellman, Donna Fox, Frank Rambauskas, Greg Mulac, Stephanie Mulac and Captain Lou Edwards
Rockstar Platinum Live Audience
Rockstar Platinum Live Networking
More amazingly, in addition to the onsite excitement of Rockstar Platinum Live, there were even more buzz going around on Twitter, where so much word spread around that we actually had over 1000 people tune in to watch the show live on UStream!
Although the crew did come out to Rockstar Platinum Live for the networking and content, we definitely did not disappoint those who came to party and live the rockstar lifestyle with us!
Rockstar Platinum Live Backstage Entrance For VIP Pass Holders
Rockstar Platinum Live Air Guitar Contest
Rockstar Platinum Live Karaoke – Ross Goldberg Performs The Humpty Dance
Rockstar Platinum Live Taste Tripping Party Hosted By Harris Fellman
Rockstar Platinum Live VIP Party At The MGM Skyloft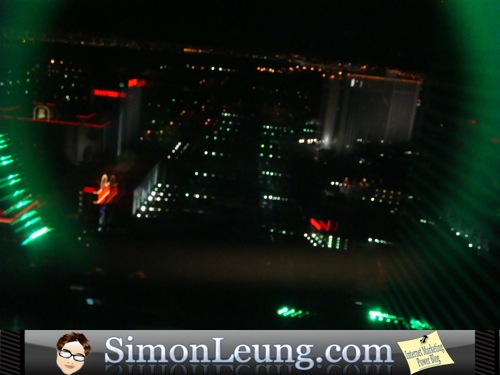 Rockstar Platinum Live – MGM Skyloft View Of The Las Vegas Strip
Rockstar Platinum Live VIP Party At Tabu Nightclub
Rockstar Platinum Live Private Karaoke Party
Rockstar Platinum Live Closing Ceremony – Performing "Rockstar"
As you can see, everyone at Rockstar Platinum Live simply had a blast – and it was agreed by all that it was one heck of an event!
Moving forward, Lee Collins, Robin Collins and myself are extremely excited to bring the Rockstar Platinum Live back in June with the dating and relationships edition, so stay tuned for more information on that.
Thank you to all the speakers, VIPs and audience for being a part of the Rockstar Platinum Live debut…
And of course, a HUGE thanks to the Rockstar Crew for making the rockstar lifestyle possible – special shoutouts to Amanda Swigert, Travis Swigert, Jacqui Brown, James Lee, Andy Huang, Lasse Rouhiainen & Albert Hallado~ you guys ROCK!
IMPORTANT: If you missed our Keynote Speaker Robert Allen's inspirational talk at Rockstar Platinum Live, you can still watch the presentation for a very limited time by clicking on the video image and link below…